main page content
Skip main page content
Dr. Tsvi Sheleg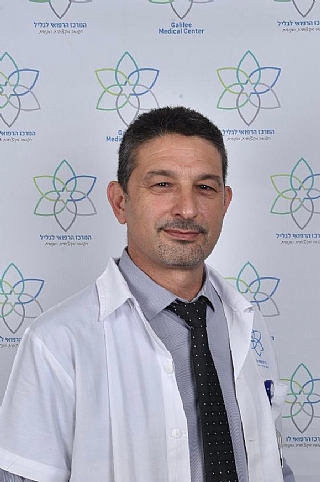 Dr. Tsvi Sheleg, Senior Physician Ophthalmology Department, Deputy Director General Galilee Medical Center.
Born in 1970 in Tel Aviv, and currently a resident of Mitzpe Hila, he is married to Elite, and father to Or and Amitay. He completed his medical studies in 2003 at Ben-Gurion Universityin Beersheba and internship at Galilee Medical Center. From 2005 to 2012, Dr. Sheleg was a resident in Ophthalmology and continues to perform ophthalmic surgery. His Main focus is cataract surgery.
In 2014 he completed his studies in the Executive MBA program of the Faculty of Business Administration, Recanati School of Tel Aviv University. Since 2014 he is a resident on healthcare management in Rambam Medical Center.
Dr. Sheleg completed his military service as a Major in the Armored Company as Commander, during which he was awarded certificates of merit by the Chief of Staff in 1992 and Head of Northern Command 1994. In his reserve duties he currently serves as a Commander of the Airborne Medical Company, which is part of the IDF field hospital. In this capacity he was part of the Israeli Airborne Medical Aid Mission to Haiti following the tragic earthquake in 2010, and in 2015 took part of the IDF field hospital mission to Katmandu, Nepal.
In 2012 Dr. Sheleg was appointed Assistant Director of the Galilee Medical Center and became a member of the board of the medical center. In this role, Dr. Sheleg has served since 2011 as Chair of the Internship Committee, and as a member of Quality, Acquisitions, Branding, Computers, Medical Record Review and Nursing Committees of Galilee Medical Center.